Spray-on Tan & Safety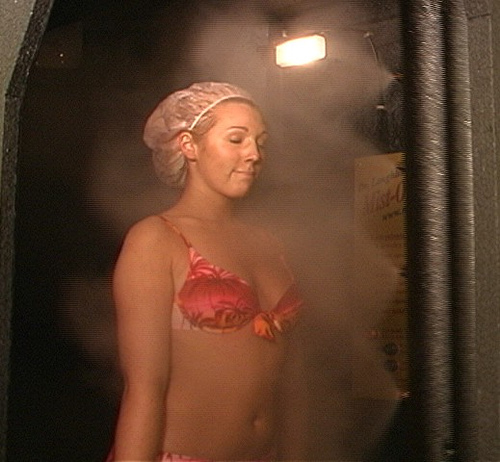 WHAT YOU MIGHT BE INHALING?
■

SPRAY ON TAN

According to the Food and Drug Administration, FDA, spray on tans are generally much more safe than sunbathing and tanning in tanning beds. When applied to the skin, the FDA considers spray on tans safe, although there are potential risks to spray on tans.

The risks for spray on tans are not nearly as dangerous as natural UV or artificial UV rays. The spray-on tanning or mist-on tanning that are commonly available at a salon or spa are generally applied to the entire body, including the face in order to ensure a full balanced color, but this provides the means for the product toget into your eyes, nostrils, or lips.

If DHA is inhaled or ingested, there are possible risks, but the exact side effects are not completely known since spray-on tanning is a relatively new tanning process. This does not seem to be a very safe way to get a tan.
■

TANNING BEDS

NO! The only Canthaxanthin we recommend as the highest quality, purest, and darkest is the one labeled VITAL CHOICE. Many other Canthaxanthin products would most likely fit into one of the following categories:
Other brands are NOT vegetarian (even though some companies label it as such).
Other brands are an orange-red instead of a brown-red carotenoid.
Other brands contain one or more of the following chemicals: BHT, BHA, modified food starch, methylparaben, sodium bisulfite, propylparaben.
RPM Total Vitality has always sold a pure, dark-brown, European Canthaxanthin. Many other companies in the United States are selling a chemical synthetic food dye as Canthaxanthin. It is only 10% Canthaxanthin and 90% chemical food additives. It contains animal by-products and is used for the coloring of foods such as barbeque sauce, thousand island dressing, tropical fruit punch drinks, sausage, etc.
■

Our customers say it all...
"I like the tablets so much better. Thanks for listening." - J.P.K., CA

"This is a wonderful product. I just love it!" - Dr. R.B., NY

"I love the tablets." - R.W., MI

"I'm writing to express my appreciation for your Canthaxanthin. I've achieved amazing results." - D.C., OK

"This stuff is great." - D.A., WI

"I love the tablets." - B.J.M., FL

"I like the tablets. I've cut the amount I used of the tablets." - K.P., PA

"I look good! With no burn!" - M.C., RI

"I've been using Canthaxanthin for over a year and it is great!" - S.K., IL

"Both Canthaxanthin and Flower Pollen work great!" - S.V., CA

"I am a 55 year old white female. Six months ago I started taking Canthaxanthin because my coloring had become so pale. I love the remarks I get; people no longer ask 'How are you feeling?' Now they say 'Wow, do you look good'" - P.G., FL